How to Succeed as an Online Student
From Stephen Gatlin, President and CEO of Gatlin Education Services
Online courses are an excellent way for busy professionals to gain advanced training and certifications or switch career paths. They can also be very effective for first-time job seekers who need specialized training. However, before signing up, here are a few factors that can ensure an online student's success.

Time Management
Time management may be the biggest factor in succeeding at your online course. Successful online students have to be very proactive in their studies and take responsibility for their own learning.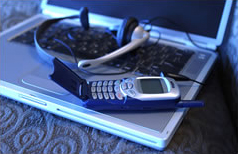 To master time management, first determine what time of day you think you will be most focused on your studies. Are you a morning person or a night owl? Do you concentrate best after a cup of coffee or after lunch? Once you narrow in on a time of day reserve a designated allotment of time to dedicate to your course.
Stay committed to that reserved time and treat it like an appointment that can't be budged.
Balancing Personal Obligations
While there are many reasons to take an online course – one of the most frequent reasons students choose these courses is because of the convenience. Whether you have a full-time job, don't want to fight traffic or are raising a family – balancing school and personal obligations can become a juggling act.
The beauty of self-paced, online courses is that you can study around your schedule – so be sure to set study time during your down time – even if that means 11 p.m.
Study Environment
An ideal study environment is just that – ideal. Some students need absolute silence while others can't seem to concentrate without noise in the background. No matter what your preference is, a well-lit place that is free from distractions is recommended. Note that you'll make much better use of thirty minutes of disruption-free study than an hour's worth of commotion-filled learning. If you can't escape in-home interruptions, try the library or a coffee shop. Schedule your designated study time when you can be in a distraction-free environment and your chances for success will increase and the time you need to devote to your course will decrease.
Questions
Don't be afraid to ask questions. As an online student there are several ways to get the answers you are seeking. If your course offers instructor support (and I would recommend courses that do), you can always direct inquiries to your teacher. Top-notch courses tend to provide first-class support so that students never feel lost or alone during the e-learning process.
However, online chat rooms, if provided, are another great resource for students seeking answers. Online chat rooms give students a forum to meet other students taking the same course and ask questions or discuss assignments. More than likely another student taking the course has had or will have the same question.
If you need an immediate answer – do your best to find the answer yourself. You'll likely satisfy other lingering questions in the process and often times the journey to the answer teaches you more than the answer itself.
Get What You Give
Remember that noncredit, continuing education and certificate courses are designed to provide the skills necessary to acquire professional caliber positions for in-demand occupations. The more effort you put forth in these online courses to comprehend the lessons taught the more likely you are to succeed after the course is finished. Extra effort during the course will lead to an easier transition in your new positions or with your new responsibilities.
E-learning has a lot to offer students who dedicate the time and focus to extracting everything the course has to offer.
As president and CEO of Gatlin Education Services, Inc., Stephen Gatlin develops corporate vision and strategic direction, manages product development and international expansion efforts, and oversees day-to-day operations of the world's largest provider of online workforce development programs to colleges and universities.
Different coloured text or italics to indicate that it's not part of the article – I would suggest larger type so that they read it!
One World for Children offers first-class online training, whether you are starting with a Certificate III in Children's services, completing an Advanced Diploma in Children's Services, participating in our exciting Leadership in Action Series or a range of other workshop sessions.
Each of our online workshops is facilitated by two trainers enabling prompt response to questions and comments which arise during the session. All participants are able to interact with each other by using their microphone or by direct text messaging. There are also other forms of communicating during the LIVE virtual classroom environment such as the use of Emoticons and contributing comments and ideas during a brainstorming session using the Whiteboard.
Why not come on board right now – join one of our very popular workshops and see for yourself how exciting the virtual classroom is.